Fantastic project of a villa estate on the Costa del Sol
15/11/2020
2020-11-25 19:45
The concept of this estate can be summed up in one word: "difference". This project is different from any other built in Europe, and the villas that make up the estate and their furnishings are different from each other.
---
Co znajdziesz w artykule:
Yesterday we launched a website dedicated to this project. We decided that it requires special presentation. We have been working on it for several weeks and are very proud of the result. We invite you to have a look at: Wille w Hiszpanii (the website is in Polish, Google will help you to get a general picture and if you need more details, please contact us and we will send you all the information in English).
The quality of life you dream about
The common elements are: innovative design, the highest construction standards and unprecedented creativity in designing the interior of each house. All of this turns a luxury villa estate into a world-class architectural masterpiece with panoramic views of the Mediterranean, Gibraltar and Africa.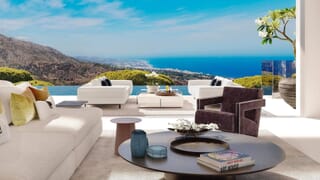 Location, location, location
In the heart of the Golf Valley, between the exclusive Marbella and the beautiful and charming Benahavis, a completely new district is being built. At its highest point, on a plot offering a fantastic panoramic view of the sea, coast and mountains, an estate of modern villas will be built, designed in harmony with nature and so that nothing obscures this view.
Looking down from the terraces of the villa you will see a golf course and an artificial lake of 35,000 m2 with a beach, swimming area and a water sports club (non-motorized, therefore non-noise-generating). There will also be a SPA, sauna, massages and two swimming pools: one heated 25 m, and the other one for water exercises (aqua gym). You will also see a boutique exclusive hotel, a restaurant with a bar, tennis and paddle courts, a playground for children and a small shopping center. It is possible to ride a bike or walk around the lake.

Security
The entire district will be monitored and guarded, and this estate - an enclave of peace for its residents - will be equipped with an independent, state-of-the-art security system.
A good investment
As the entire neighborhood is under construction, the neighborhood will grow along with the villas. As usual in such cases, real estate prices will also rise - especially since their number is limited. A modern house bought at the lowest price, because at the off-plan stage, the possibility of personalizing every detail, awareness that the quality of construction is guaranteed by the BREEAM certificate + the above-mentioned advantages of a perfect location - this is a recipe for a successful investment.

Property management & packs
These will be houses whose servicing will never become a burden for the owners. Even if they only come on vacation, the administration will make sure the house and pool are clean, the lawn is mopped and the fridge is full. This is because of the packages that the developer offers. There are several of them, and each of them responds to different needs of residents. The Concierge Pack will ensure that they will not have to worry about cleaning, shopping, airport pickup etc. Business Pack will turn their home office into a perfectly prepared office, equipped with the latest communication technologies. Wellness Pack will make the home a place where they will be happy to come back to rest. These are just a few examples, there are more packages, all designed to make life easier for residents.