Luxury real estate in Spain – this is worth knowing
25/05/2021
2021-05-25 08:29
The luxury real estate market in Spain is booming. It is not afraid of a crisis or a pandemic. Spain is extremely attractive to people with wealthy wallets. Worldwide millionaires often choose this country as their second home. In addition to the full range of high-end real estate, there is a well-prepared infrastructure, plenty of elegant restaurants, an interesting cultural offer and a fantastic climate.
---
We recently wrote on our blog about the sale of Villa Alcuzcuz, which the buyer could not even visit before the transaction due to covid restrictions. He knew that he would not come to his new home for another year, and yet he decided to buy it and spend a considerable sum of EUR 10 million.
In April, the Villa Cullinan located in the La Zagaleta district, known as the "Diamond of Marbella", was sold. The starting price for this Spanish luxury property was EUR 32 million.
La Zagaleta, Benahavis – the center of luxury real estate in Spain
The most expensive urbanization in Spain is 30 years old and covers 900 hectares, with 240 houses currently standing. Their number may not exceed 420. Not because of the lack of space, but because this was the vision of Zagaleta's creator, Don Enrique. Enrique Perez Flores was born in Seville. As a banker working in Zurich, he made a lot of money. After retiring, he returned to Spain and in 1991, together with his friends, bought a property called La Baraka, then owned by the Saudi magnate Adnan Khashoggi, for the equivalent of EUR 36 million. Mr. Khashoggi was a colorful character. At one point, considered the richest man in the world, he fell into trouble and disfavor with the elite when the US accused him of arms trafficking and Switzerland of laundering the 100 million dollars exported by dictator Ferdinand Marcos of the Philippines. Khashoggi has endured the hard times. He moved to Monaco and, traveling between Monaco and London, lived to the beautiful age of 81.
Tittle-tattle: the Saudi magnate was also in some way related to the British royal family, although the family absolutely does not boast about this relationship. On the fateful journey ending in a tragic car accident, Princess Diana was accompanied by Dodi Al-Fayed, son of Adnan Khashoggi's sister, Samira.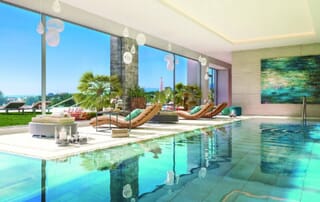 Coming back to today's Zagaleta. The site of Mr. Khashoggi's former hunting ground is today the best guarded and fantastically maintained neighborhood, a heart-throb of many who dream of a luxury property in Spain. 50 km of private roads connect two golf courses, a horse farm, tennis courts, a helipad and two social clubs. Few can afford a luxury villa in this place. House prices start at EUR 3.5 million and membership in Club Social costs EUR 100,000. Residents of La Zagaleta do not get scared by such amounts. They are very wealthy people and often celebrities who are ready to pay much more for their peace of mind. La Zagaleta provides them with luxury, discretion and security. Don Enrique's vision is realized even though he himself died last year. All this makes La Zagaleta an ideal location for those who are looking for luxury properties in Spain.
I would like to add that 80% of the income of Benahavis from property taxes comes from the residents of Zagaleta.
Sierra Blanca, Marbella
Called the local Beverly Hills, it cannot match Zagaleta in terms of security and discretion, but it does compete with it in house prices. Here it is also difficult to find a villa, the price of which would not consist of 6 digits. Located close to the center of Marbella and the beach, it is a place eagerly chosen by wealthy people who prefer to be closer to normal life and are looking for luxury properties.
A square meter of a plot in Sierra Blanca costs EUR 1,200, the construction of 1 m2 of a villa in the standard expected from this type of real estate, approximately 3,000 m2. The minimum plot size here is 2,000 m2, and the maximum size of a house on such a plot is 600 m2. The bill is simple: the average price for a house in Sierra Blanca is around EUR 4.2 million. However, there are much larger plots of land and houses. In February this year a villa was sold on Sierra Blanca for EUR 20 million.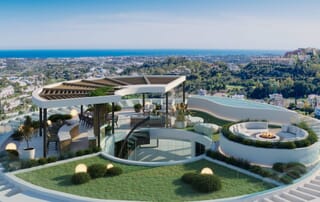 Luxury Villas versus luxury apartments
Luxury real estate is not only about villas. Fantastic apartments are also being built in southern Spain. Their prices can exceed prices of many houses and make them worth considering when looking for your dream luxury property in Spain.
The most sought-after location of the apartments is still the so-called first line beach. As its availability is naturally limited, the prices of plots left for development are absurdly high. This does not deter developers. In recent years, on the Costa del Sol itself, several high-class apartment housing estates located by the sea have been built. In the most expensive of them, located in Estepona, prices started at EUR 1,980,000 for a three-bedroom apartment and ended at almost EUR 5 million for a four-bedroom penthouse. The 3-bedroom apartments were from 403 to 431 m2, and those with 4 bedrooms – from 548 to… 813 m2. Such areas are more associated with a villa than with an apartment, and if we add the fantastic quality of finishes and the location, the prices stop looking crazy. It is worth noting that the developer started selling off plan in April, and in August more than half of the 28 apartments have already been sold. This is the crowning proof that the luxury real estate market in Spain is immune to crises as large as the COVID-19 pandemic.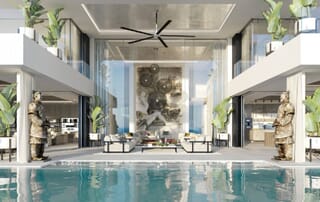 Luxury apartments in Spain are also being built inland. On the Golden Mile, we will find over 600m2 penthouse equipped by the well-known Fendi company. The interiors are fabulous and the starting price of this apartment / house is EUR 5.5 million. Nueva Andalucia will offer us beautiful, modern apartments from 800,000 EUR and above. A lot of apartments are built in Benahavis, and the high-end ones start at 700,000 EUR for a two-bedroom apartment. For a penthouse in the same estate you must pay over EUR 2 million.
The primary market is only one side of the coin. Often, the secondary market is the first choice for people looking for luxury apartments in Spain. It is known that the best plots of land on the coast were built up many years ago. Developers outdoed each other in ideas, usually sparing no resources on finishing. Today, their style may make you laugh, but the quality still surprises. Many people with an affluent wallet who do not want to buy a villa for various reasons decide to have an apartment for renovation in a prestigious location.
Prices of luxury real estate in Spanish metropolises
In Madrid, the Salamanca district is definitely the leading one: the average price per m2 in Recoletas is EUR 8,683. The second place in the ranking of the most expensive districts is occupied by Area Romantica in San Sebastian with an average price of EUR 7,786 m2. Barcelona's Sarria and Ciutat Vella districts are next, with prices per m2 respectively 7,387 and 7,014 EUR. For comparison, in Seville and Valencia, the most expensive apartments cost just over EUR 3,000 per m2. This data comes from a report published by the Fotocasa portal in March 2021.
Luxury real estate and the Spanish islands
When writing about luxury real estate, it is impossible not to mention the Spanish islands. The Balearic Islands have the highest real estate prices among the islands. And this is not a surprise, but the first place in the ranking is. It is not occupied by Mallorca or Ibiza, but by Formentera with a price of EUR 7,643 per m2. Next in the ranking are: Mallorcan Deia with a price of EUR 5,909 per m2, located in Ibiza, Sant Joan de Labritja: EUR 5,165 per m2 and Ibiza: EUR 4,910 per m2.