Working under palm trees, or why Costa del Sol is the perfect place for a home office
23/02/2022
2022-02-28 13:36
The COVID-19 pandemic has set new standards. It turned out that you can work not only from the office and not only from 8.00 to 16.00. Remote working and a flexible working time approach have become the norm in many industries, and open-plan offices are now much more open. Employees realized that they were no longer tied to one location or their desks, and could take their work literally anywhere… or at least where their internet connection allowed them.
---
Co znajdziesz w artykule:
And if they can work from anywhere, why not a dream place... the warmest in Europe, with a coast with 140 beaches, where the sun shines 320 days a year? Such as the Spanish Costa del Sol!
Work + vacation = workation
Workation is a global trend that will continue growing in 2022, and the number of digital nomads will only increase. To define it well, you can paraphrase the words of Confucius: "Move your workplace to where others go on vacation, and you will not work a single day." Costa del Sol is one of the popular holiday destinations that are targeted by millions of tourists every year. What is so special about the Coast of the Sun?
8 reasons to fall in love with the Costa del Sol – You'll find there are many reasons to be delighted, but the most important thing is the diversity that makes the Costa del Sol appeal to so many.
Combine tourism and work on the Costa del Sol
Costa del Sol is an ideal place for tourist activity and work at the same time. The southern Mediterranean coast of Spain offers a range of attractions in all its flagship locations, from smaller, charming white villages, to bustling, luxurious resorts. How about a busy working day and in the afternoon seeing an exhibition of world-class art in Malaga? Or hanging out on one of Marbella's beaches all morning before you sit down at your computer?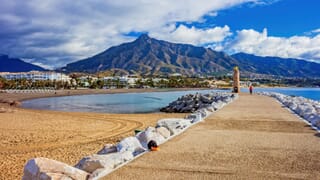 Imagine answering an email or answering a business phone and feeling the summer Mediterranean breeze on your face. Or you take a break and go for a short walk on the beach. When you come back, you tick off more from your to-do list and go to surfing lessons you've been looking forward to for a long time. At the end of the day, you enjoy tapas and sunsets in the beautiful little Andalusian streets. All this does not have to be a dream anymore. It is at your fingertips and real as never before.
When choosing a remote work destination, it is worth considering how you would like to spend time after work. What to watch? Where to go? Costa del Sol is an ideal destination in this respect, because few places combine so many different attractions:
Diverse landscape – Costa del Sol will start with more than just the most beautiful beaches, it also includes rocky coasts, beautiful valleys, vast arable lands, caves, Sierra Nevada mountains or the Tabernas desert;
Amazing nature – the south of Spain is an area with a huge variety of flora and fauna species, where ecological tourism flourishes, you can see here, among others: Sierra de las Nieves national park, several landscape parks, e.g. El Tajo de Ronda, El Torcal de Antequera, Jardin Botanico Historico La Concepcion;
Rich cultural heritage – it makes a lot to visit on the Costa del Sol. The long list of places to visit includes not only numerous monuments, but also: Roman Theater, Picasso Museum or Salvadore Dali sculptures;
Excellent cuisine and wine – gazpacho and salmorejo, flamenquin, pescaito frito, jamón and famous tapas, as well as sangria and wine, which is the essence of the wealth of these lands and a showcase of the region;
Ideal conditions for practicing various sports – windsurfing, diving, sailing, golf and football, but not only… you can also ski in Sierra Nevada;
Family attractions – theme parks, water parks, oceanariums, rope parks, butterfly land – Mariposario de Benalmádena, chocolate factory in Mijas Pueblo, ZOO Bioparc and the whole Fuengirola, which is one of the most popular family resorts – your kids will be delighted!
Home office on the Sun's Coast
The last two years have shown that employees who feel comfortable working remotely are happier, have lower absenteeism rates, more energy and a greater sense of loyalty to employers. Such findings lead to the assumption that remote work will become the norm, even after a pandemic. This is another argument for moving to the Costa del Sol for a longer time. Then it is worth considering investing in your own apartment or renting a house for yourself on the coast. Marbella and Puerto Banus, Estepona, Sotogrande, Mijas, La Cala, Benalmadena and Fuengirola – the best locations and the best properties go hand in hand here.
By working in an inspiring environment and communing with fantastic nature every day, you can be just as effective, and often much more creative. Here on the Costa del Sol, you have the chance to strike the highest balance between work and private life.