Christmas in Spain – customs and traditions
Christmas in Spain. What are the customs and Christmas traditions? What do Spaniards eat? In this article, you will also read about the Christmas traditions in Spain, find out what Dia de Los Inocentes is and how the Spaniards celebrate the Epiphany.
---
Co znajdziesz w artykule:
The festive mood accompanying Christmas, called here Navidad, can be felt in the south of Spain from mid-November, when the ubiquitous preparations for the holidays begin. Colder days are also starting and the sweater is no longer enough, which is a sign for us that winter and Christmas in Spain are just around the corner. Streets, roundabouts, shops and shopping malls are dressed in Christmas decorations, the lights will flash at the end of November.
In Málaga, lighting the lights is a big event. It is a "light and sound" installation, and the city center is visited by crowds of Málaga residents and tourists. This year (2021), Christmas illumination will light up over 500 streets. Light and music will return to the streets of Málaga on November 26th in the famous Christmas programs that this year will run every day from 19:00 to 22:00.
This year in Marbella, the lights will shine on November 25th, and the event will be graced by a concert by Pitingo, the famous Spanish singer.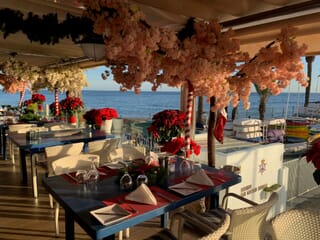 Christmas in Spain – Bethlehem Nativity Scene
Preparations and searches for the characters for the nativity scene are already beginning. The Nativity Scene in Spain is much more popular than the Christmas tree, although from year to year it is more and more often in Spanish homes. It is adorned almost all over the world with colorful baubles, chains and lamps.
The most popular character of the Nativity Scene is the famous "El Caganer". Wikipedia describes this person as follows: "El Caganer is a character that is placed in the nativity scenes. Usually it is hidden in a corner, behind a bush, where it defecates. (…) Although the exact reason for placing this figure in the nativity scene is unknown, it is believed that El Caganer fertilizes the soil with its faeces, and is therefore considered a symbol of prosperity and good luck for the next year. This tradition related to Christmas in Spain is fully accepted by the Church. Placing this figure in the nativity scene brings happiness and joy, failure to follow the tradition brings misfortune. "
Other characters of the Nativity Scene are more obvious, we know them from nativity scenes in other countries, which "El Caganer" does not visit.
Lottery to celebrate Christmas
We all know that Christmas starts on December 24th. For some, however, it is December 22nd. This is without a doubt one of the most important days of the Christmas season in Spain. Then the drawing of the famous Spanish Christmas lottery "El Gordo" (meaning "fat man") takes place. The traffic on the streets stops, and in the background from the very morning you can hear the very characteristic "singing" of numbers. The numbers are being sung by children from the San Ildefonso School in Madrid. For over 200 years, the children of this school have been responsible for singing numbers in the Christmas lottery. Their voices will reach all Spanish homes on December 22nd, and they won't be silenced for about 3 hours, which is the time the draw usually takes. Children do not know which of them will sing the lucky number of "El Gordo", so singing the numbers is accompanied by great emotions.
I am convinced that there will be no Spaniard in all of Spain who has not bought a single Christmas lottery ticket at least once. You can already buy an El Gordo ticket on almost every corner. Who will be lucky this year?
Curiosity! The highest win in "El Gordo" so far was in 2011 near Tarragona – it amounted to EUR 33 million. Nice Christmas gift, isn't it?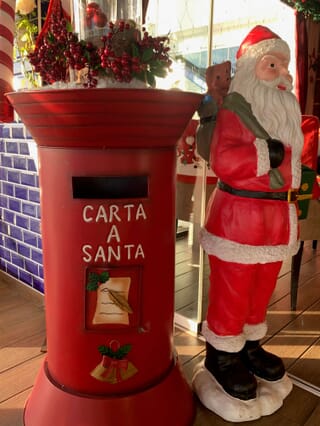 Christmas traditions in Spain – Christmas Eve
The tradition of Christmas Eve is known in Spain. Christmas Eve is a family holiday, but after a gala dinner it is also celebrated with friends, outside.
The Spanish Christmas Eve menu is very varied, mostly seafood or poultry, although each region has a typical dish. Of course, the table also includes freshly cut Spanish ham "jamón" and mandarins that have just been brought from the orchard. Desserts usually consist of delicious "turrón" and marzipan, while Arabian desserts made of almonds and honey are also popular. They used to be prepared in the pastry shops of every city, now they can be bought in the shop ready.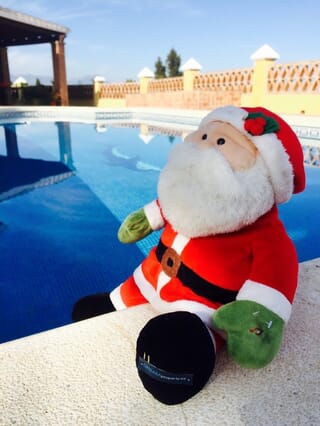 Practicing Catholics go to the Midnight Mass (Misa del Gallo) at midnight
Curiosity! In some parts of Spain, December 24th is also important for another reason: Papa Noel brings gifts to children. In the Basque Country, Olentzero fulfills this task, and in Catalonia and Aragon – Tio de Nadal. This takes place only in some areas and not in all homes, because according to Spanish tradition, children get gifts from the Three Kings. There are, however, the lucky ones who find gifts under the Christmas tree on December 24th and receive them from the Three Kings on January 6th.
Christmas Day in Spain is spent with family and friends, on this day the festive meal is dinner. In many places, roast mutton is traditionally prepared for this day, in others, just like on Christmas Eve, seafood, poultry, Spanish ham and mandarins are in the lead.
December 28th – Dia de los Inocentes
Do you know that, according to the Christmas tradition in Spain, December 28th is the equivalent of our Fool's Day? Everything you hear that day will most likely turn out to be untrue. As always, the best fun is for children who, in some regions, mainly in small villages, visit the homes of their families and neighbors and receive sweets in exchange for a Christmas carol.
New Year's Eve and New Year in Spain
New Year's Eve in Spain is divided into two parts: the first is a gala dinner with the family, the second – an outdoor celebration. At 00:00, the tradition is to eat 12 grapes ("uvas de suerte" – that is "grapes of happiness"), one for every beat of the clock. The grapes are to ensure prosperity for the next 12 months. For this purpose, practical Spaniards grew a special kind of very sweet, small, seedless grapes, so that no one accidentally choked and did not jeopardize their future prosperity. Before New Year's Eve, you can buy specially packed grapes: 12 fruits, already stripped of their stalks, washed and ready for immediate consumption. You must make your life easier, also on New Year's Eve.
Curiosity! Some places have their own unique New Year's Eve traditions. In Coin, for example, virtually all residents dress up and celebrate the beginning of the New Year with their friends in various outfits. The party starts in the streets and then moves to clubs and private homes. Often, the preparation of costumes in groups of friends takes several months, but the results are worth it, they delight with their ingenuity and sense of humor.
Epiphany in Spain
The Epiphany is celebrated very loudly. The day before, on January 5, there are beautiful parades and performances, the so-called Cabalgatas de Reyes, where tons of candies and sweets are scattered. Their children await them the most, because it is the Three Kings who bring them gifts with the rain of sweets. In Algeciras, children collect cans during the holidays in order to be able to prepare the so-called Arrastre, which is nothing else than cans on a string. The kids are dragging these cans along the streets on the morning of January 5th, so that the Three Kings won't miss their house that night and leave their presents.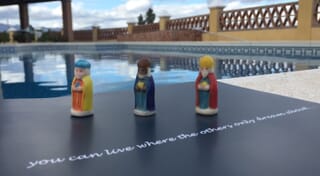 Roscón de Reyes cake
On January 6th, it is a tradition to eat a cake called "Roscón de Reyes", in which two objects are hidden – a grain of beans and the figure of one of the Kings. A person who finds the character of one of the Kings will not only be lucky in a given year, but will also be crowned with a paper crown attached to the cake. The person who comes across the beans will not only have to fight bad luck in the New Year, but also provide the family with "Roscón de Reyes" the following year.
Christmas is an extremely joyful time in Spain.