Real estate in Spain for renovation - what is worth knowing?
16/01/2020
2020-01-16 11:32
Properties for renovation raise quite extreme emotions probably all over the world. Investors associate them with a good investment and high profits, while in buyers of a property for themselves the word "renovation" often causes goose bumps. Both reactions are fully justified, it all depends on how you approach this topic. So how do you do it?
---
First, answer the question: where to buy property in Spain for renovation?
The answer is quite simple: location, location, location. The golden rule of real estate markets around the world also applies here. Contrary to frequent opinions, it is not the low price that makes the investment attractive, but its location. Example: driving through Spain you will see a lot of picturesque ruins located in the areas of former olive or almond plantations. Some of us, these with extremely romantic souls, would be eager to transform such a ruin into a cozy Spanish house. But does cozy mean illuminated with kerosene lamps and heated by a fireplace? Maybe before letting your soul reach into your wallet it is worth checking if we will not have to bring the water and electricity installation from the nearest village, which is 20 km away?
The same rule applies to urban properties. Before we are delighted with the price of the flat for renovation located in a district where after dark we would feel insecure, or in a building whose structure does not inspire our trust, let's think for a moment whether if we make this apartment a "pearl", will we surely find a buyer?
When looking for a property for renovation in Spain or any other place, it is always worth seeking the opinion of people who know the local market and know things about it, which even a experienced investor from the outside has no chance to observe. Did you know, for example, that one of Marbella's beautiful villa districts has a problem with ... smell? Depending on the direction of the wind, it smells like sea and flowers blooming in the gardens or like sewage treatment plant unfortunately located near this district. You admit that buying even the cheapest refurbishment ruin with a sewage treatment plant next door is not a good investment idea.
Another question, when we know where to buy this property is: how to buy a property in Spain for renovation?
Just like any other. I will only add that when buying a property for renovation it is necessary to seek support of a person familiar with the art of construction in its broad sense. Someone like this will be able to assess whether the crack running through the ceiling in the living room is just a defect of the old drywall suspended ceiling, whether the concrete structure of the building is unstable and may be a source of serious problems for you in the future.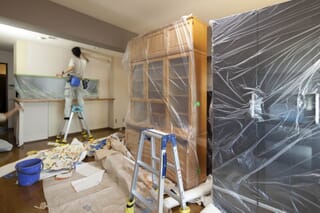 How do we do it?
We at Dream Property do it this way: we offer our clients so-called package, that is: we find an interesting property for renovation, renovate it and sell or rent - depending on the client's business plan. However, we undertake repairs only because we work with a proven and trusted construction company, whose boss we usually invite to view the property we have chosen before we show it to the client. If our colleague decides that after renovation he will be able to give us a guarantee that the property is safe, and we, after calculating the price and approximate costs of renovation, believe that there is potential in this property, we continue to work. If, on the other hand, a construction colleague says: "this building is only suitable for demolition," we close the topic. This, of course, applies to residential buildings, but if it is an old villa on an interesting plot, we are looking for a client who will like this plot and will not be afraid of building a new house from scratch. (Remember? Location, location, location). Since we are coming back to location, the favorite location for most of our clients is broadly understood "near the sea". Let's have a look at this topic.
Properties in Spain for renovation located by the sea
Since most of us want to buy a real estate, rent it or live "close to the sea", and the coast is not done from rubber, there is a problem of demand - supply relationship. Simply put, there are fewer properties at the seaside than all others, and because demand is not falling, their prices are rising. The so-called "first line" of the Spanish coast is the place that was built at the earliest, which means old real estate. If we talk about real estate for renovation, their age is not a special problem. However, prices do.
Prices of properties for renovation by the sea
Often for an apartment for general renovation with a lateral sea view in a building that is 40 years old, you must pay as much as for a new apartment from the developer, built using modern technologies, and located ca. 15 minutes drive by car from the coast. Usually this apartment, thanks to its location on the hill, will also have a beautiful view of the sea - although it will not be "near the sea". The first line is also a frequent choice of very affluent investors, who in the past willingly bought beach plots for their luxury villas. There are basically no empty plots left in the first line, so investors buy old houses, often only to demolish them and build luxury modern villas in their place.
To sum up: when planning an investment type: purchase - renovation - sale, you need to be aware that not only the price of the property, but also the costs of renovation are important. That is why we watch them hard while working with our investors. The last transaction of this type, namely: the purchase of an apartment for renovation, a general renovation with reconstruction of the interior and the sale of a renovated apartment, we closed in just one year. So maybe it is worth a try?