What is our work like during the coronavirus pandemic?
04/12/2020
2020-12-04 13:09
When the talk about the Wuhan virus was getting louder earlier this year, none of us expected the virus to shut down the world within a few weeks. This is exactly what happened in mid-March, without any warning the world just stopped.
---
We also stopped. Suddenly, we were not allowed to leave our homes, to work – because in our case online work is only partially possible – and we had no one to sell or rent real estate to, because all our clients are foreigners. And they, too, were locked in their homes without being able to come for reconnaissance.
Take it easy, it will only take 2 weeks ...
After the first shock that such a global stop was possible, I began to wonder what to do next. As an incorrigible optimist, I believed, indeed, I was convinced that this circus would not last long. The first state of emergency in Spain was to last two weeks. And I was preparing myself mentally for that time, these 2 weeks seemed impossibly long to me – and then they passed really fast... and another two were announced. It was supposed to stay that way until May, but I didn't know it then.
We don't wring our hands - we work normally
We agreed with Piotr that despite of the situation being completely new for us, we work normally. "Normally" meant as much as possible online. In the end, quite a lot was possible. A few cool blog entries were created then, the idea of ​​the Facebook "Diary of the Plague" was born, which later evolved in "A look behind the scenes, or the broker's diary". I also talked to you a lot back then, because since we only had phone calls left and all of us (apart from doctors and medical staff) had lots of free time, we made long phone calls and talked: about the situation in Poland, about the situation here, who is afraid of what and who thinks what. More and more interesting conspiracy theories started to appear, and almost every day some internet self-proclaimed guru announced his, often completely unbelievable, view of the situation.
There are pluses to this situation
When at the beginning of May it turned out that we could start working partially, I was well rested, in great physical shape, because in order to release the excess energy accumulated by sitting at home, I exercised a lot, made up for some reading arrears and became the happy owner of Netflix (which anyway became a platform for one series for me until recently, when someone persuaded me to watch "Queen's Gambit").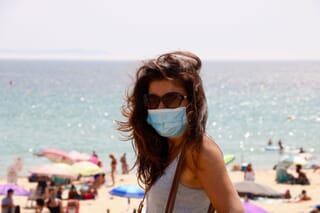 We're slowly going back to work, the virus Matrix
Thirsty for contact with people, I burst into the office, and there… girls at the reception desk wearing masks, plexiglass covers everywhere, some strange doormat for disinfecting the soles of shoes… in a word, the virus Matrix. The government provided us with guidelines on how real estate agents can work. It turned out that: a) in fact, it's best not to contact the customers at all, but if we have to, then b) without masks, gloves and attention – foil "shoes" – we are not allowed to move, and we should forget about driving customers in our cars.
Our clients were not here in May or June, since Spain's air borders were still closed, so I did not care much about these recommendations (although I still carry a set of masks in my car, so-called for customers – just in case). Back then, I worked most intensively online. We had 2 transactions in progress, in both cases customers were waiting for their flights to be unblocked, but did not want to waste time and decided to purchase properties online.
Developers and covid bookings
At that time, developers agreed to the so-called covid reservations, i.e. the client interested in the property after watching all possible marketing materials and "live" presentations, paid the agreed amount to reserve this property. Under normal circumstances, such a booking is non-refundable, but the pandemic turned "normal conditions" upside down, so developers agreed to the booking until the customer's arrival and gave him, for example, one month after the opening of the air borders for arrival and a decision.
So, I ran from one developer to the next, taking photos, making videos, connecting with clients in "their" real estate, all that they could see as much as possible before paying any money. It was an interesting lesson. I've always had rather mixed feelings about buying real estate so completely online, but the pandemic has shown that I was wrong. Many people bought properties this summer, especially the off plan ones, which they wouldn't even be able to see anyway if they were here because they just aren't there yet.
Flights are back, so it will be like before the virus again
When flights returned in July, I first immediately flew to Poland to meet my family and friends. Besides, I'm a general travel fan, so I felt like in a cage after over 6 months without stepping a plane. After our return, we got down to work, together with Klaudia, who came back from her maternity leave and the local "stopover". Full of enthusiasm, we waited for the guests who reserved apartments and houses for holiday rentals. Few of them finally arrived, but those who did were served by us in strict compliance with the rules.
A little scary and a little funny
I felt a bit strange not being able to enter the apartment with my clients to show it to them, or signing the registration documents almost on the hood of the car and wearing gloves. Sorry, we kept breaking one rule all the time: we didn't require customers to take off their shoes before entering the apartment or to disinfect the soles of their shoes with alcohol. This was a slight exaggeration for us. On the other hand, my neighbor suggested to me about a week ago that she could help me with a supply of plastic slippers, you know, the kind you get in museums. To my question: "what do I need them for?", my quite alarmed neighbor said: "nobody would enter my apartment without them". Well, I don't ask my guest to wear them. But she's the same neighbor who washed her store-bought avocados in ammonia solution during quarantine, so at least she's consistent.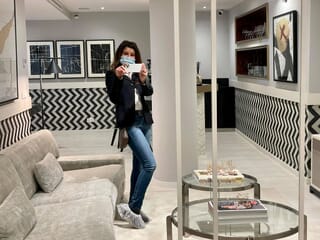 Eh, they canceled flights again ...
In July, I was full of enthusiasm and thought that from September we will start to function normally. In September, Poland canceled all direct flights to Spain and my enthusiasm had cooled down considerably. Recently, it comes back timidly, because I have the impression that people are tired of waiting. They realized that each new day, week, month, this is their time, their life they would not get back. So they started planning, arriving, buying.
What is our job like now? Almost normal. It is true that we still wear masks, we still should not drive customers in our cars, but the absurd recommendations to avoid contact completely have disappeared and we can finally show properties to clients in person. This is the part that I like the most in our work and which in my opinion cannot be replaced by the best live, the most interesting presentation by zoom or the most successful photos.
Cover photo by Branimir Balogović from Unsplash