15/11/2019
Discover 3 luxury properties in 2 top locations on the Costa del Sol
Today, my friends, it will be all about luxury. We have 3 high range proposals for you, each is different, each has got a different style, all are beautiful and in perfect locations.
---
Apartments in Doncella Beach urbanization, located on the first line of the beach in Estepona
Estepona, formerly treated as Marbella's younger and poorer sister, grows into a luxurious beauty. There are more and more excellent quality housing estates in beautiful locations, which are still not lacking in Estepona. The urbanization in question is a pearl among the seaside spots in Estepona. It wins with quality, excellent after-sales service and investment potential (rentals!). There are still a few flats to buy here, so if you want to feel like Greek gods, this is the perfect place for you (the buildings are called Zeus, Aphrodite, Poseidon... ☺)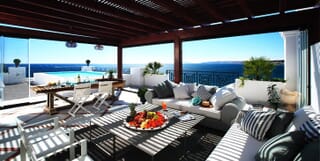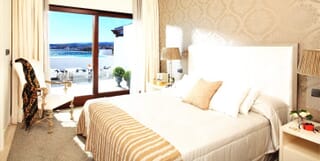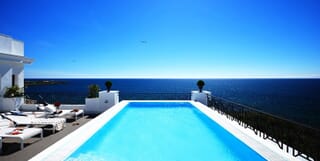 Learn more about this property
Villa in Puerto del Almendro in Benahavis
Until recently, Benahavis was only associated with an Andalusian town, picturesquely located, peaceful and proud of its title "Rincon Gastronomico", awarded to him in recognition of the merits of the chefs working at restaurant located in Benahavis. Indeed, it is a paradise for gourmets and lovers of good wines. Recently, Benahavis has also become associated with luxury housing. A lot is being built here, ranging from apartments to beautiful houses, often very large and expensive.
Our villa is an example of the house you want to come back to. It is not huge or exceptionally - by the local standards - expensive. Instead, it has amazing, holiday and relaxing energy that everyone who lives in it willingly admits. It's the perfect home if you need an oasis of peace and quiet.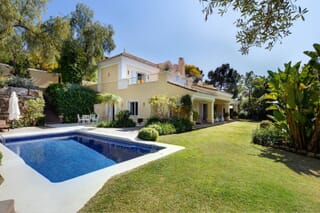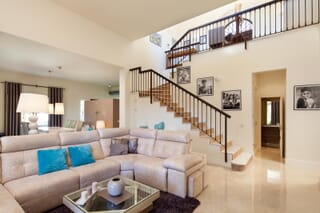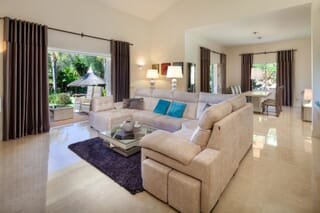 Learn more about this property
Apartment in Los Granados del Mar in Estepona
We are going back to Estepona. This apartment is a piece of art, basically I should add "functional", because apart from the undeniable beauty of the decor, it is also very practical. The owners have thought through every detail, took care of the details and quality and created something unique. And this view ... If the sound of the sea for morning coffee is what you are looking for or want to see the sea without getting out of your bed, here you will find all this. Because the urbanization is additionally equipped with swimming pools: outdoor and indoor, gym and sauna and 24-hour security, it is an ideal place for lovers of luxury who do not necessarily want to think about maintaining the pool and garden being on vacation, so they prefer a luxury apartment over a villa.